I'm kind of like Han Solo always stroking my own wookie...
R.U.GAY, 17.2.2006 19:22 MEZ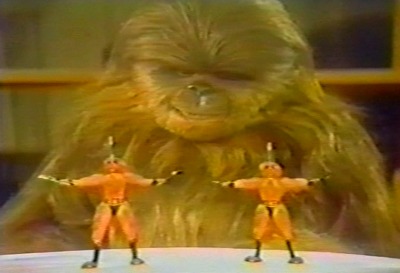 Manche Filme sollte die ganze Welt gesehen haben...

http://www.badmovies.org/movies/swhs/
5 Kommentare (< 6434 T)
---
Fantastisch, da eröffnen sich ganz neue Dimensionen für das Filmfestival. Ich finde es faszinierend, dass in diesem Star-Wars-Machwerk tatsächlich die Originalschauspieler mitmachen (und die Existenz dieses Films leugnen, ganz zu schweigen von George Lucas der anscheinend mit Gewalt gedroht hat). Die Frage ist nur, woher bekommen wir sowas?
---
http://www.badmovies.org/movies/apple/

Two Canadian singers discover that the American music industry is controlled by Satan. Will they be strong enough to face the challenge or will Alphia and Bibi become just two more drug-addicted rock stars?
---
Gut gestohlen ist besser als schlecht geschissen...oder so...
---
Gehst scho wieda mit fremde Finds hausieren? Bäser Bua!
---
http://www.badmovies.org/movies/sextette/index.htm[...]

"..."Sextette" is a film that was not meant for mortal eyes..."
---
<< zurück