The internet is for pr0n!
dr.e, 21.12.2005 20:51 MEZ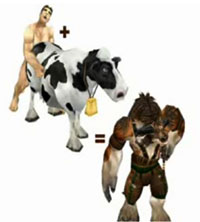 Die Wahrheit über Sinn und Zweck des Internets wird uns von Kate Monster (einer Word-of-Warcraft Tauren Dame) und ihren männlichen Freunden aus Azeroth nähergebracht, in einem sehr genialen Video das wohl nicht nur Word-of-Warcraft Süchtige überzeugt:

http://www.youtube.com/watch.php?v=lr_HR-iIlYg

"Grab your dick and doubleclick!"
1 Kommentar (< 5596 T)
---
Ich weigere mich ja zu gestehen, dass das Monster recht hat, aber...
---
<< zurück