Wer weiss welcher Religion er angehoert?
sym, 5.12.2005 10:24 MEZ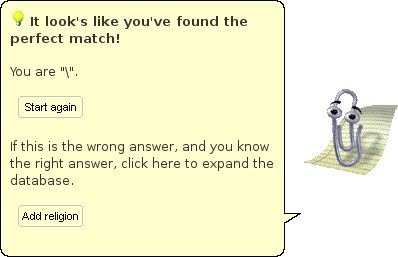 Wer sich bei all den Religionen und Sekten usw. der Welt nicht mehr
auskennt, und nicht mehr weiss welcher er/sie angeheort dem kann der MS-Paperclip (bekannt und gefuerchtet aus allen
Office-Anwendungen) da weiterhelfen:
Der Totl. Belief Assistant:
http://totl.net/Religion/

4 Kommentare (< 5607 T)
---
"Do you wear horned helmets and wield a large battle-axe while fighting off dodgy heroes who are after the silver gourd of Mal-Jhara which will give them +2 strength in their quest to save the Princess of the Kingdom of Hearthware?"
---
a non-theist rational skeptic uber-geek, 5.12.2005 20:40 MEZ
BOW TO ME WISDOM!!
---
Das Beste ist, wenn man einfach immer nur "yes" wählt...
---
Bei der Frage "Do you believe in quantum physics?" hab ich natürlich "No" gewählt und somit heißt meine Religion "yup yup yup", offebar eine Sekte die sich der Suche im Internet widmet (http://www.yup.com) - das mit dem erweitern der Datenbank war wohl keine so gute Idee.
---
<< zurück