75 Bands
eltom, 2.12.2005 17:10 MEZ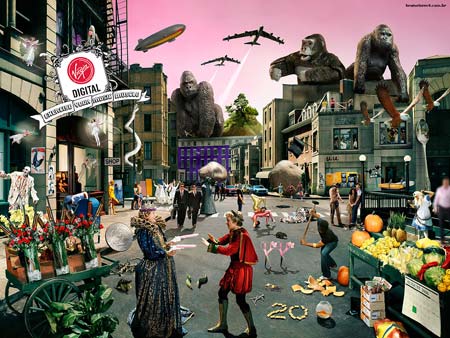 In diesem Bild sind insgesamt 75 Bandnamen visualisiert. Ein paar sind ziemlich offensichtlich (Gorillaz, Rolling Stones, ...).

Einfach genial! :)

Hier das Bild in voller Auflösung:
http://www.chinternet.co.uk/75bands.jpg
9 Kommentare (< 6039 T)
---
Blur(rechts)
alice in chain(rechts)
Queen
Prince
Eminem(m&m)
the B52's
Nine Inch Nails
Sex Pistols
Black Flag
Radio Head
Eagles
Rolling Stone
White Snake
White Zombie
Pixies
Dead Kennedeys
Match box 20
the Police
the door
Carpenter(on the roof)
Blind Melon
Hot Chilli Pepper(vege stand)
Korn (corn,vege stand)
Guns n' Roses
Smashin Pumpkin
Green Day(the calendar)
U2 (the u u)
the Spoon
the Hole
Gorillaz
Gabage
Beach boys
Deep purple

http://holaeurope.blogcn.com
---
Pet shop Boys,
---
Wer hat da jetzt mal Duplikate aussortiert und gezählt, wieviele wir schon haben?
---
Garbage, The Eagles, Deep Purple, Beach Boys, Kiss, B 52, ...
---
Nine Inch Nails, Cypress Hill, Gorillaz, Seal, Blur,
---
Blind Melone, Blues Brothers, The Streets, Robert Plant...
---
Gscheidhaus, 2.12.2005 23:25 MEZ
Dead Kennedys, Twistet Sister, Spin Doctors, Green Day, Pink, Red Hot Chili Peppers, White Zombie, Prince, Beegees, Blondie, The Hole, The Roots, Police, Lemon Heads, Crowded House, Phish, Reel Big Fish, Eminem...
---
Beobachter, 2.12.2005 20:59 MEZ
Black Flag, The Eagles, Radiohead, Alice in chains, Rolling stones, Led Zeppelin(?), Sex Pistols(haha), Dinosaur Jr., Whitesnake, Beach Boys(?), Dead Kennedys, Matchbox 20, Queen, Iron Maiden, ....keine Lust mehr, is aber ein feine pic.
---
Auskenner, 2.12.2005 19:20 MEZ
B52, Led Zeppelin, Scissor Sisters, 50 Cent, Presidents of the US, Pixies, Smashin Pumpkin, Eels, U2, Guns'n'Roses, Cornershop, Yelloman, Doors, Madonna.
---
<< zurück