Yoga - indisch vs. steirisch
dr.e, 1.12.2005 17:12 MEZ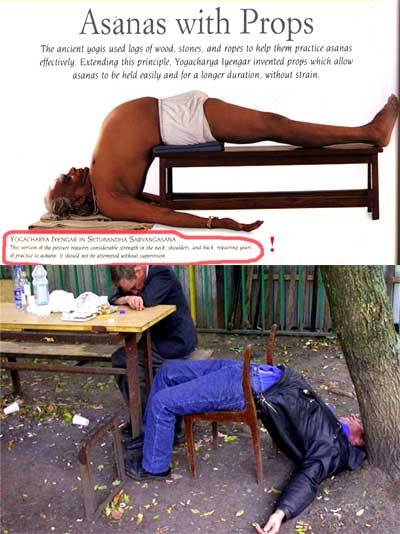 top:
Yogacharya Iyengar in Setubandha Sarvagasana
This version of the posture requires considerable strength in the neck, shoulders, and back, requiring years of practice to achieve. It should not be attempted without supervision.

bottom:
Yogacharya Sepp Kropfjodel in Johnsbach im Gesäuse
This similar version of the posture requires remarkable strength in the liver, bladder, and great thirst, requiring uninhibited drinking till early morning to achieve. It should not be attempted without fellow boozers.
4 Kommentare (< 5613 T)
---
schwarzerkaffee, 1.12.2005 22:48 MEZ
muahaahahahaha RA!PID ... i verreck .... bruahahahahaha
---
also so nen Ösi wie den R.U.GAY trink ich doch lange unter den Tisch, schließlich ist Rapid (mit Betonung auf dem "a") ja auch bei unseren Bayern untergegangen.
---
Na da wünsch ich viel Erfolg. Und nicht vergessen: Yoga kann einem Körper, der einen gestressten Geist beherbergt, nicht helfen. Also zuerst den Geist reinigen, leeren und über Weindampf meditieren.
---
Die zweite Methode will ich jetzt probieren. Mal sehen. Gehe heute noch mit Leuten vom Institut auf den Gluehkindl-Markt...waere ein netter Einstand.
---
<< zurück