Quantum Sleeper
necropedophil, 13.8.2004 18:10 MEZ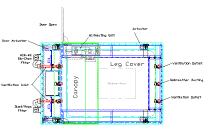 http://www.qsleeper.com/

Anders als man bei diesem Titel bzw. Namen eines Produktes vielleicht vermuten könnte, handelt es sich hierbei nicht um ein hochinteressantes physikalisches Phänomen, genausowenig wie um das quantentheoretische Äquivalent eines Siebenschläfers.

Nein, liebe Freunde, dieses hochfunktionelle Möbelstück fungiert als letzte Verteidigungslinie gegen die täglichen Gefahren. Ich zitiere:

Protection from Bio-Chemical terrorist attack
Protection from natural disaster
Protection from kidnappers/stalkers
Bulletproof "Saferoom" protection

Ich bin ja immer sehr auf meine Sicherheit bedacht und denke ernsthaft über eine Anschaffung nach.
3 Kommentare (< 6083 T)
---
eher ein Living-High-Tech-Sarg
---
Zitat:
"The unit can be fabricated to provide a sealed temporary environment from harmful gasses. The unit can also be fitted with defensive devices customized to the requests of the purchasers such as tear gas spray, robotic arms, or projectile weaponry, for examples."

Das ist kein Bett, das ist ein TRANSFORMER!
---
Beeindruckend, dieses Gerät bietet vollen Schutz bei biologischer Kriegsführung und während draußen die Scut-Missiles niederregnen kann man sich bei einem kühlen Bierchen aus dem eingebauten Kühlschrank die neusten DVDs reinziehen. Sollten wir vielleicht für die Uni anschaffen.
---
<< zurück