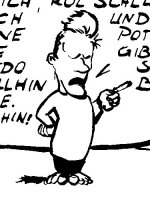 roli
alle Beiträge von roli anzeigen
<< zurück
---
Olls Guate nach Mainz!
---
Olls Guate nach Mainz!
---
Als junger Mensch soll man sich schon hin und wieder einen hinter die Binde kippen.
---
...wechselt seine Namen öfter als seine Unterwäsche...
---
James Joyce, 15.10.2004 14:48 MEZ
Mr. Leopold Bloom ate with relish the inner organs of beasts and fowls. He liked thick giblet soup, nutty gizzards, a stuffed roast heart, liverslices fried with crustcrumbs, fried hencods' roes. Most of all he liked grilled mutton kidneys which gave to his palate a fine tang of faintly scented urine.
---
http://www.patbratton.com/Walter_Sobchak.html
---
Du kannst Dich eig. gern auch offiziell in "deutscher" umbenennen.
---
Ich sag nur DIPLOM INGENIEUR! Wenn wir ein paar knallharte und bisher unbekannte Fakten über Roli zusammenbekommen, könnten wir ihn zum Kopf der Woche küren und seine Leistungen auf diese Weise besonders würdigen.

Wir könnten aber auch einfach Saufen, Junge.
---
Ist Roli der nächste evolutionäre Schritt?
---
Beim Verspeisen einer Helix?
---